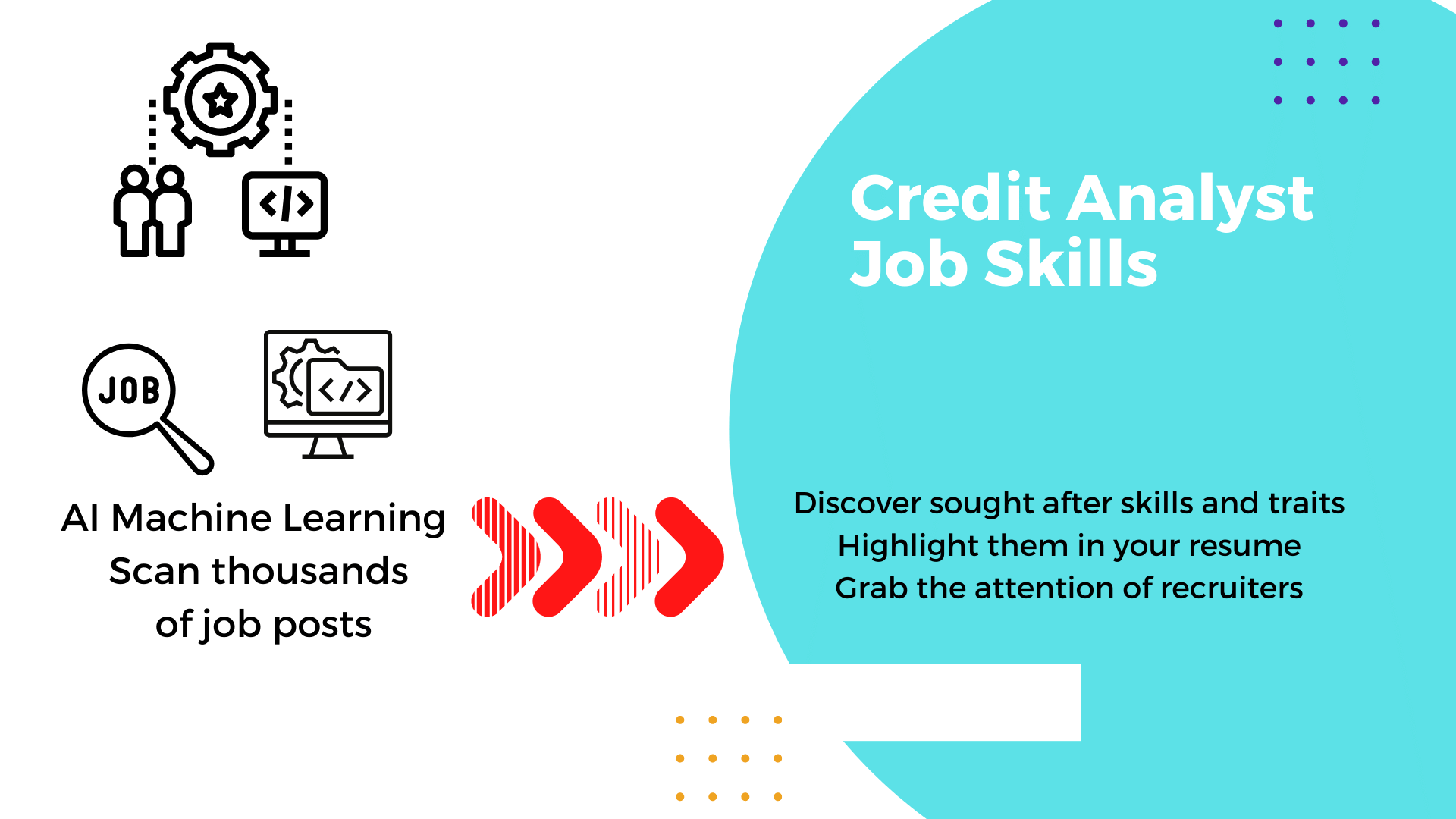 Resume for Credit Analyst Keywords – Skills and Experience to highlight #
How to become a credit analyst? Our machine learning computers have scanned through the job descriptions of hundreds of recent job posts to identify the keywords to highlight in resumes for Credit Analysts.
Within your cover letter, resume or CV, focus and highlight these skills, experience and qualification keywords to catch the attention of potential recruiters, hiring managers and CV scanning BOTS.
Having a good understanding and coverage of these keywords and skills on your resume will help you. Most hiring managers today rely on recruiters or BOTS to scan through resumes before even meeting a potential candidate. These recruiters may not have extensive knowledge of the role and may pick out candidates based on key topics that they can find. Having these skills listed and emphasised may help you stand out and get selected.
What type of skills and experience to focus on when writing resumes for Credit Analysts? #
Companies are seeking credit analysts with an understanding of the following topics.
Click on the sections to copy the keywords and helpful descriptions to paste and modify on your cover letter or resume.
Main Credit Analyst Experience and Skills #
Use these descriptive experience keywords to make your CV stand out
Underwriting

Compliance

Accounting

Chargeback

Risk Management

Financial Analysis

Forecasting

Risk Engineering

Quality Assurance

Reporting

Origination practices

Artificial Intelligence

Decision Trees

Credit Reporting

Fraud Risk management

Cashflow Underwrtiing

income analysis

deal pricing

data analytics

financial modelling

fraud detection

Software and Technology Experience #
Copy the appropriate sections for your CV/Resume.
Well versed in
Experienced with
Working knowledge of
Familiarity with


Python

SQL

Microsoft Office

MSSQL databases

Machine Learning Solutions

SAS

Salesforce

Tableau

Credit Analyst Industry Experience #
Well versed in
Experienced with
Working knowledge of
Familiarity with


Mortgage origination systems

Mortgage banking

Life Insurance

Casualty Insurance

Commercial Lending

Consumer Lending

Financial Services

Loan Origination Systems

Successful Credit Analyst traits to emphasize in your resume/CV #
Besides experience and qualifications, recruiters also look out for key behavioural traits. Below is the list of key traits that recruiters for Credit Analysts are seeking. Upon reviewing the list, here are some areas that you should try to emphasize. Click the section and copy, paste and edit in your cover letter or CV.
Upon reviewing the list, these are the highly sought-after skills and traits:
ability to multi-task, prioritise work
analysing large data sets
analysing complex financial documents
contributing to critical business insight
identify dependencies
identify emerging fraud trends
identify red flags
review complex financial documents
review complicated tax profiles
The ability to multi-task and prioritise is also crucial and there is an expectation that one is able to meet deadlines. Check out the list of traits below for more.
 multi-task
 communicate
 prioritize work
 define problems
 manage multiple projects
 analyze data
 analyze financial statements
 manage multiple priorities
 analyze business financial statements
 analyze cash flows
 analyze complex financial documents
 analyze compliance documentation
 analyze insurance risks
 analyze large data sets
 identify control gaps
 identify dependencies
 identify emerging fraud trends
 identify key risks
 identify obstacles
 identify red flags
 identify risk factors