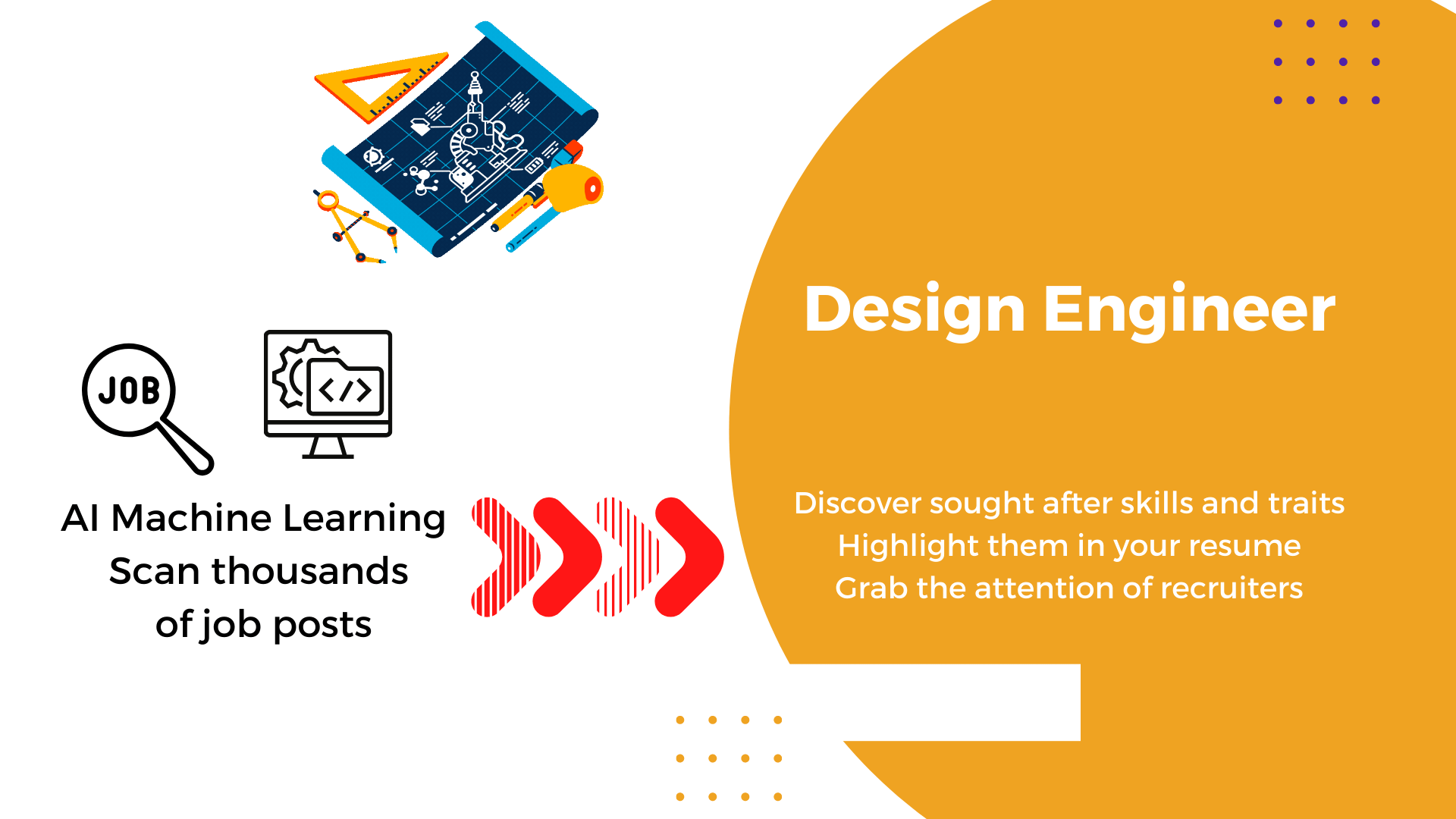 High Demand Design Engineer Key Skills and Experience #
If you are seeking roles or are wondering how to become a design engineer, this list of high-demand design engineer key skills, experience, and qualities in the field of design engineering may assist you.
Leveraging machine learning and text mining to identify key design engineer skills #
Through text mining and machine learning, I have analysed 1000s of design engineer job descriptions to formulate a key list of skills and qualities.
How does this help? #
Job Seekers #
If you are applying for a design engineer role, the below summary of skills, experience and qualification keywords may help you understand what looks good on a design engineer's resume and cover letter and provide ideas to help catch the attention of recruiters as well as job application bots.
Recruiting for a design engineer #
Discover the high-demand skills and job responsibilities that industries around the world are seeking. This may assist you in searching out candidates with the right skill sets for your organisation.
Career Guidance #
Just leaving school and thinking of pursuing a career in design engineering? These identified attributes will help you understand what is required.
What design engineer key skills are recruiters seeking? #
Here are the top 30 experience keywords that appear in job descriptions for design engineers.
The top five most sought after experience in designer engineers are:
Design Validation
Read this useful article to get an overview of the design validation process in engineering

Design Simulation
Engineering.com has a great article on simulation design

Product design
Product development
CAD
design validation
design simulation
assembly
product design
product development
Python
Verilog
prototype
mechanical design
scripting
Perl
manufacturing processes
optimization
methodologies
prototyping
debugging
C
mechanical engineering
synthesis
selection
analog
packaging
consumer electronics
FPGA
operations
fabrication
3D CAD
SolidWorks
Assembly
mass production
Qualities sought after in a Design Engineer Role #
What does a design engineer do? These are the most common abilities and qualities sought after by recruiters. They cover 3 main areas. A design engineer must be able to integrate, communicate and perform key tasks.
In the area of integration, companies are seeking engineers who can integrate computer-aided engineering results and feedback effectively.
As with most roles, communication is important and companies want their design engineers to be able to communicate.
Key areas of communication are:
ability to articulate design
championing tasks
articulating technical discussion
conveying complex concepts and
mentoring others
Finally, what are the key tasks that design engineers are expected to do? They are:
Multi-tasking and managing competing priorities
Effective problem solving
Application of mathematics and engineering to problems
Conceptualising mechanical components
Conducting experiments
Customising Design Rule Checking
Debugging issues and troubleshooting failures
Defining problems
Driving design thinking
Driving decision
Driving root cause analysis
Identifying Optimisation opportunities