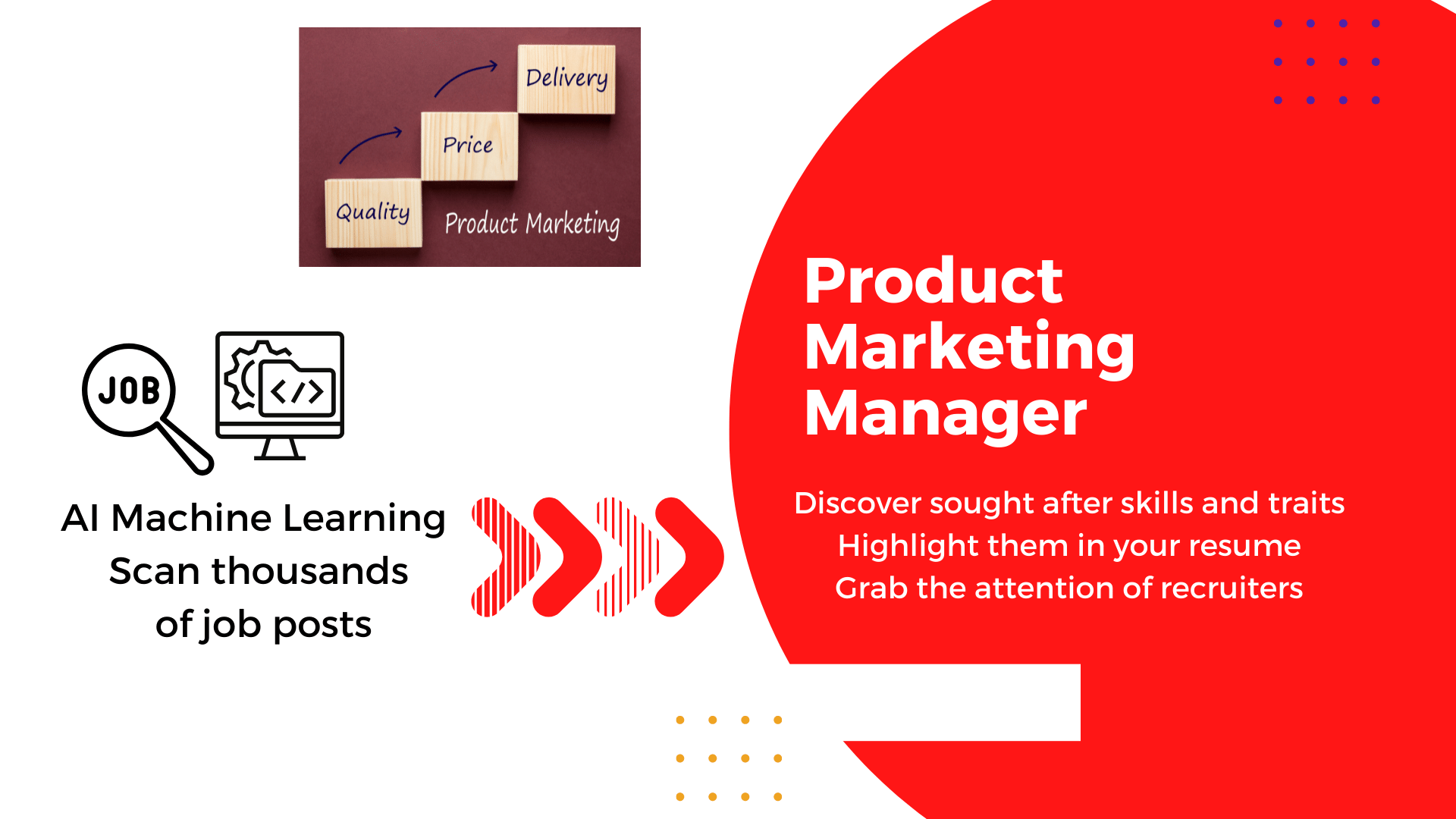 In demand Product Marketing Manager skills, experience and qualities #
What are some of the most important product marketing manager skills, experiences and attributes? Find out here!
Product marketing managers play an essential role in helping companies develop new products that meet consumer needs. They must understand how consumers use products, identify potential problems, and create solutions for those problems. This article will give you insight into the responsibilities, experience and qualities required for this role.
Using machine learning, we have analysed thousands of job postings to help you understand what companies and recruiters are seeking in an effective product marketing manager. Our insights will also assist you should in staying up-to-date with industry trends and the key product marketing manager skills.
Outlined below are the key skills and tasks for product marketing managers.
Product Marketing #
Scaling Product Marketing
Managing end-to-end Product Marketing
Develop and lead Product Marketing strategies
Develop and achieve marketing success metrics
Collaborate on content development for brand alignment
Contribute to the development of marketing collateral
Product Management Experience #
implementation of product management strategies
go-to-market vision, strategy and product launches
knowledge of product lifecycle management processes, measures and tools
influence product roadmap
work cross-functionally with sales, marketing and product management organisations
Digital Marketing #
Understanding of Digital Marketing especially Social Media and Mobile
Execution of Digital-first launches
Development of a comprehensive Digital Customer Experience strategy
Other complementary skills and experience #
Project Management
Brand Management
Consumer Marketing
Market Analysis, Research and Competitive Intelligence

Analysis of market data
Monitoring of competitive landscape
Providing competitive intel top equip sales and product teams

Management consulting
Business Development
Process Engineering and management
Attributes and Traits of a Product Marketing Manager #
Expected traits of a product marketing manager are the ability to:
communicate

articulate vision
communicate complex concepts, and technical details
translate consumer and market insights

influence cross-functional teams, decision-makers, key stakeholders

influence product positioning

prioritise and multi-task

handle multiple projects and competing priorities

analytical

analyse business issues, reporting data, financials

ability to execute and apply

apply marketing concepts
apply P&L perspective
apply marketing operating strategies